On the 23-24 April, LCAMP lead, Tknika, presented LCAMP at the WFCP 2023 Congress in Montreal, Canada.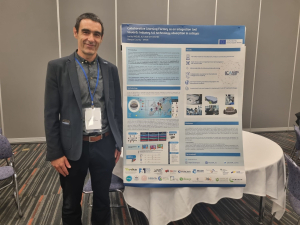 The WFCP – WORLD FEDERATION OF COLLEGES AND POLYTECHNICS – hosted their annual congress under the theme of 'Collective Intelligence'. During the Congress, over 1500 participants gathered for reflections, networking and discussions. Their goal was to explore innovative solutions for VET (Vocational Educational and Training).
On April 23, during the Applied Research and Innovation Workshop,  Tknika presented the Basque model of applied research in VET and a poster about LCAMP's Collaborative Learning Factory (CLF). The CLF is one of the proposed services of LCAMP, that seeks to offer innovative learning in Advanced Manufacturing in VET centres and labs. It is led by partner Miguel Altuna, one of the three Basque Centres funded for the Spanish Network of Excellence Centres in Vocational Training.
On April 24, Unai Ziarsolo, International Project Manager, Tknika, spoke during the panel 'Building Industry Partnerships that ensure learner success and job placement.' He spoke about the role of CoVEs to strengthen VET-Industry relations and drew on the example of LCAMP.
LCAMP relies on building strong partnerships between innovative actors in the advanced manufacturing sector. The WFCP World Congress was an excellent opportunity for LCAMP partners to network with leaders of associations, colleges and polytechnics to celebrate excellence in professional and technical education and training.