UNESCO International Conference counts with the participation of LCAMP

On 25-26 October 2022, the International Conference: UNESCO strategy for TVET 2022-2029 took place in Bonn (Germany). In this framework, it was presented the new UNESCO strategy which sets out the path to recovery, resilience building & the reimagining of education and training. The conference gathered more than 100 participants from different countries in the world, including  LCAMP representative Iñigo Araiztegui.
During two full days, a distinguished set of speakers discussed several aspects related to the future of VET in the world from very different perspectives from the point of view of countries (all continents were represented), types of institutions (the whole so-called strategic triangle was present in the event), and fields of interest.
The UNESCO-UNEVOC strategy "presents UNESCO's vision to transform TVET for successful and just transitions during the period 2022 to 2029, by promoting skills development for empowerment, productive employment and decent work, and facilitating the transition to more digital, green and inclusive economies and societies."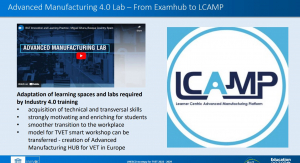 Iñigo Araiztegui, TKNIKA's Director of Internationalisation, Basque Country (Spain) was invited to present the LCAMP project at the session "Bridging Innovation and Learning in TVET (BILT) – Innovation and Learning Practices" on the second day. Araiztegui presented EXAM 4.0 and LCAMP Centres of Vocational Excellence (CoVES) as best practices that can bridge innovation and learning in TVET. The EU-funded project, ExamHub 4.0, developed a pilot European platform of excellent advanced manufacturing VET centres, which today continues in the format of a new EU-funded Centre of Vocational Excellence (CoVE), LCAMP. This project is offering partners from different countries the opportunity to work together on how to adapt learning spaces and labs required by Industry 4.0 training. LCAMP goes one step ahead of ExamHUB 4.0, as it will design five activities (skills and jobs observatory, an open innovation community, a learner-centric training and a collaborative learning factory) all working towards the development of advanced manufacturing ecosystems with a human-centric approach. Furthermore, LCAMP will closely cooperate with SMEs and with other EU-funded projects working in the same field. On top of all of this, LCAMP will establish the first Learner-Centric Advanced Manufacturing Alliance.
About the UNESCO-UNEVOC
As UNESCO's designated centre for technical and vocational education and training (TVET), UNESCO-UNEVOC supports Member States in their efforts to strengthen and upgrade their TVET systems. TVET is focused on the acquisition of knowledge and skills for the world of work and helps youth and adults develop the skills needed for employment, decent work and entrepreneurship while supporting inclusive and sustainable economic growth.
UNESCO-UNEVOC promotes increased opportunities for productive work, sustainable livelihoods, personal empowerment and socio-economic development, especially for youth, women and the disadvantaged. Through its innovative projects, capacity-building programmes and collaborative activities with more than 220 UNEVOC Centres around the globe, UNESCO-UNEVOC is working towards ensuring access to quality skills training and development for all.
Background materials
https://lcamp.eu/wp-content/uploads/sites/53/2022/12/UNESCO-banner.jpg
787
1454
levenezmolac
https://lcamp.eu/wp-content/uploads/sites/53/2022/07/lcampLOGO_BERTSIOAK-negatibo_kolore1B-300x146.png
levenezmolac
2022-12-06 09:04:39
2022-12-06 09:11:21
UNESCO International Conference counts with the participation of LCAMP